Jelly Blobs of Doom
is an Action game from
Jelly World
on
Neopets
.
Site Description
" In a world where everything is made out of jelly, it's eat or be eaten. It was a time of war, a time of heroes. He was a Chomby. A very hungry Chomby. There was only one who could help him fulfill his destiny. Then THEY came. Movie coming Winter 20XX. Keep checking this page for updates! "
Trivia
This game has a ribbon for 50 million plays
rainbownegg - Type during gameplay for a 20 point Rainbow Negg. Once per game.
fishnegg - Type during gameplay for a 50 point Fish Negg. Once per game.
marissa - Type on the screen with "Press the spacebar to play" and the text "Now are you happy?" will appear.
Typing random letters will generate massive blue blobs of jelly.
Movie
Donna and Adam spent weeks working on ideas, wrote it up in a document, gave it to the Neopets management who promptly filed it under R for Rubbish. So the movie was never going to be released.
Gallery
Videos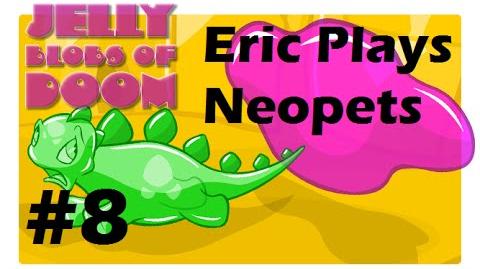 Ad blocker interference detected!
Wikia is a free-to-use site that makes money from advertising. We have a modified experience for viewers using ad blockers

Wikia is not accessible if you've made further modifications. Remove the custom ad blocker rule(s) and the page will load as expected.