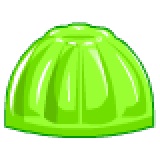 Jelly is a dessert type food that comes in a myriad of flavors. The word jelly in Neopia is used like the term in the UK -- what people in the US call jello: a dessert, not a condiment. You can get a free jelly from the Giant Jelly every day (link to Jelly World). Each jelly provides 2 servings. Some aren't good for your pet, like the Dung Jelly and Poison Jelly. Some species of pets won't like certain types or will only eat half of a certain type. The glolwing jelly can sometimes turn your pets glowing.
Related
Items
Food: There are foods made of jelly that can be bought from the Jelly Foods shop in Jelly World.
Medicine: NeoFlu Jelly Pills
Flavors
B
Blueberry, Blunella
C
Carnapepper, Cheese, Chocolate, Chokato, Cornupepper, Cranberry
D
Dung
F
Fire, Fish, Frozen
G
Glowing
K
Kiwi
L
Lemon, Lime, Lint
M
Mint, Mummified
N
Nuts and Bolts
O
Oil and Grease
P
Peanut Butter, Pear, Pinanna, Pineapple, Pirate, Poison, Purplum
Q
Queela
R
Raspberry, Robo
S
Smelly, Snotty, Stone, Strawberry
T
Thornberry, Tigersquash
Ad blocker interference detected!
Wikia is a free-to-use site that makes money from advertising. We have a modified experience for viewers using ad blockers

Wikia is not accessible if you've made further modifications. Remove the custom ad blocker rule(s) and the page will load as expected.