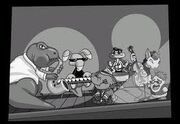 Jazzmosis
is a band in neopia that has an old style swing. When you go to a concert of theirs for the first time you get an avatar called "Jassmosis - Elephante". There are many bands in
Neopia
. Performing in the monotonic colors of black and white, Jazzmosis has become famous for its jazz music and plays in the concert hall on the 6th, 13th, 20th and 27th of every month. During December, they have a special Christmas performance.
Ticketing Info
Price: 1,250
Color: Jazz Grey
Advent Calender Special Ticket of Y4: Given out in year 4 by the advent calender.
Items of Jazzmosis
Jazzmosis T-Shirt
Jazzmosis Hat
Jazzmosis Glasses
Jazzmosis Poster
Jazzmosis Biography
Jazzmosis Plushies (All Plushies of Jazzmosis)
Jazzmosis Speaker
Jazzmosis Ticket
Ad blocker interference detected!
Wikia is a free-to-use site that makes money from advertising. We have a modified experience for viewers using ad blockers

Wikia is not accessible if you've made further modifications. Remove the custom ad blocker rule(s) and the page will load as expected.