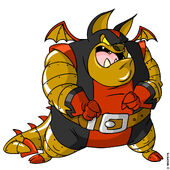 Iron Skeith
is a
Skeith
and a regular villain of the
Defenders of Neopia
.
History
Background
There are indications that initially was a hero and belonged to defenders of Neopia. Assuming that the above is true, at some point was changed sides, becoming a villain, for unknown reasons. Since then, he has faced the Defenders of Neopia on numerous occasions.
Trivia
Iron Skeith has been featured around the site in Advent Calendar animations, captions and other various things, usually being apprehended by the Defenders.
The indications that Iron Skeith might have once been a Defender himself are a stamp and comic that back this possibility up, as both are called 'Skeith Defender Stamp' and 'Skeith Defender Comics' respectively.
Gallery
Ad blocker interference detected!
Wikia is a free-to-use site that makes money from advertising. We have a modified experience for viewers using ad blockers

Wikia is not accessible if you've made further modifications. Remove the custom ad blocker rule(s) and the page will load as expected.