Invasion: Blastoids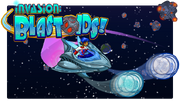 50.00 Points = 1 NP
Medium

Virtupets Space Station
External Links

High Score Page

N/A

Invasion: Blastoids
is an Action game from the
Virtupets Space Station
on
Neopets
.
Gameplay
" Comets are heading straight for Neopia! EVERYBODY PANIC! Except the Space Faerie. It's up to her to save the planet... again. Not to worry, though; her ship fires blastoids that obliterate the comets. It's science... and magic... and it's all in a day's work. Match the blastoids in each comet with the same colours from your ship. The more blastoids you combine, the bigger the explosion! Don't wait too long, though; if comets get past the Space Faerie, it's the END of Neopia! "
Trivia
This game has a ribbon for 500,000 plays
Gallery
Ad blocker interference detected!
Wikia is a free-to-use site that makes money from advertising. We have a modified experience for viewers using ad blockers

Wikia is not accessible if you've made further modifications. Remove the custom ad blocker rule(s) and the page will load as expected.