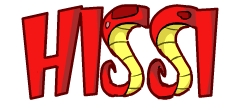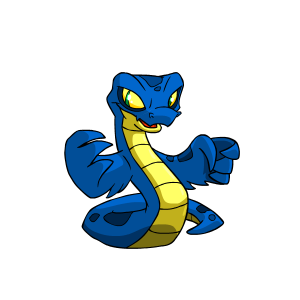 Hissi (HISS-ee) are snake-like Neopets that have two wing-like appendages that function as hands. They have very sharp senses, and can always find their friends wherever they might hide. Hissies love stories of peril and adventure, whether they're making them up themselves or having them told or read by others.
Hissi are 44cm (1.44ft) on average, making them one of the smaller Neopets.[1]
They are Limited edition, meaning they can only be created on their special pet day (May 4), gotten from a morphing potion, or gotten from the lab ray.
Site description: "Hissi have acute vision and a keen sense of smell which makes them extremely good at games of hide and seek."[2]
Available Colours
Below are all possible colours for Hissi. Hit "Expand" to see every one!
Unconverted Pets
Some colours of Hissi were exempt from auto-conversion when Neopets updated the pet art. Click "Expand" to see all possible unconverted Hissi.
Previous Versions
Hissis were released on 4 May, 2005.
Famous Hissis
Links
↑ Pet description http://www.neopets.com/petinfo.phtml?type=Hissi&r=157
Ad blocker interference detected!
Wikia is a free-to-use site that makes money from advertising. We have a modified experience for viewers using ad blockers

Wikia is not accessible if you've made further modifications. Remove the custom ad blocker rule(s) and the page will load as expected.