Guess the Weight of the Marrow is a game of chance, which the Neopians try to estimate the weight of the marrow correctly. Players choose a guess between 200 and 800 pounds and are limited to one guess per day.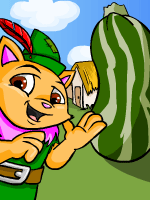 Prizes
Chocolate Marrow Slice
Marrow
Marrow and Rice Sundae
Marrow Bean
Marrow Loaf
Marrow Pie

Marrowblade
Elixir of Marrow
Marrow Sandals
Marrow Mask
Marrow Bone
Marrow Cream Pie
Guess the Weight of the Marrow was added to the site on July 24, 2002.
[edit]External links
Ad blocker interference detected!
Wikia is a free-to-use site that makes money from advertising. We have a modified experience for viewers using ad blockers

Wikia is not accessible if you've made further modifications. Remove the custom ad blocker rule(s) and the page will load as expected.