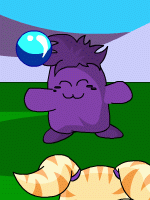 Sort of like "hot potato" with an live grenade. Players pass the ball until it explodes. The last player left wins.
It's located in the Virtupets Space Station.
The regular players are Thyassa the Chia, Brian the Scorchio, Gargarox Isafuhlarg, Farvin III, Ember the Fire Faerie, Zargrold the Cool Grundo, Ursula the Usul and Kevin the Korbat. Pick the player you want to back and see how you do.
The 23rd of the month of Gathering is the Annual Gormball Tournament. The winners from the past few years were
Champions
Runner-up
Third Place
Year
Brian was
disqualified.
Thyassa
Gargarox Isafuhlarg
Y2
Thyassa
Farvin III
Gargarox Isafuhlarg
Y3
Ursula
Gargarox Isafuhlarg
Ember
Y4
Brian
Farvin III
Kevin
Y5
Thyassa
Kevin
Gargarox Isafuhlarg
Y6
Ember
Farvin III
Brian
Y7
Stamps: Gormball Stamp
Food: Yellow Gormball Sugar Cookies, Fruity Gormball Gumball, Peppermint Gormball Gumball, Chocolate Gormballs
Toys: Gormball Throw Toys, Gormball Board Game
Weapons (including armor and other Battledome items): Gormball Gloves, Gormball Mask
Books: Acara Gormball Tips, How To Be A Gormball Champ
Other: Gormball Ursula Action Figure, Gormball Jersey, Gormball Coin
Gallery
References