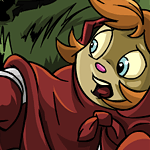 Gilly is a young Usul girl who first appeared in The Castle of Eliv Thade. Some time later, she appeared as one of the main characters in the The Tale of Woe Plot.
In the Castle of Eliv Thade game, she is lost in the woods and accidentally stumbled into the castle seeking shelter, but is trapped when the iron door slams behind her. She must solve word puzzles and claim Thade's artifacts to put his spirit to rest and escape.
You can learn how to draw Gilly here.
Ad blocker interference detected!
Wikia is a free-to-use site that makes money from advertising. We have a modified experience for viewers using ad blockers

Wikia is not accessible if you've made further modifications. Remove the custom ad blocker rule(s) and the page will load as expected.