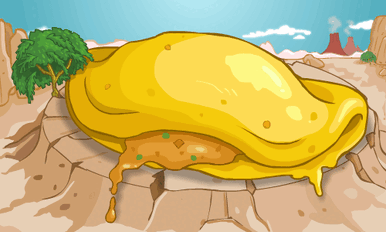 The
Giant Omelette
is a big omelette made of dinosaur eggs that sits atop the 
Tyrannian
Plateau. It is watched over by a lupe named Sabre-X, and you can take a free piece of omelette once per day.
Possible Omelettes
Plain
Sausage
Sausage and Pepperoni
Carrot and Pea
Rotten
Green Pepper
Bacon and Broccoli
BBQ Sauce

Bacon
Cheese and Onion
Cheese
Tomato
Ham and Cheese
Veggie Delight
Meat Feast

Twirly Fruit
Mushroom
Fresh Fruit Surprise
Little Fishy
Black Current
Chokato
Chocolate
Juppie
Ugga Melon

Honey Blossom
Hot Tyrranian Pepper
Marshmallow
Clay
Tomato and Pepper
Spincah Feta
Strawberry
Tangy Tigersquash
Spicy Red Pepper Omelette
Magical Tomato and Pepper (Exclusively from Better Than You)
Ad blocker interference detected!
Wikia is a free-to-use site that makes money from advertising. We have a modified experience for viewers using ad blockers

Wikia is not accessible if you've made further modifications. Remove the custom ad blocker rule(s) and the page will load as expected.