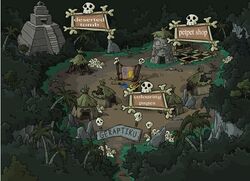 Geraptiku is a Sub Sector of Mystery Island in Neopia on Neopets.
Site Description
" On the northern shores of Mystery Island lay the ruins of the Lost City of Geraptiku. Recently discovered by some very curious Neopian archeologists, Geraptiku is an interesting place to explore... if you're brave enough to venture inside."
Sub Locations
Deserted Tomb
Petpet Shop
Other
Ad blocker interference detected!
Wikia is a free-to-use site that makes money from advertising. We have a modified experience for viewers using ad blockers

Wikia is not accessible if you've made further modifications. Remove the custom ad blocker rule(s) and the page will load as expected.