Legend has it that there was an ancient
Geb
named
Sutek
. He was stronger, fitter, and cleverer than the other Gebs, and was praised by all for his courage and wisdom. When he died, they built him a tomb that was the same shape as him (known as a Gebmid). It had four triangular sides, and a square base. There are now many Gebmids around the Lost Desert, but Sutek's was the first.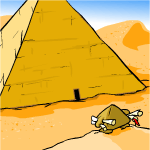 Ad blocker interference detected!
Wikia is a free-to-use site that makes money from advertising. We have a modified experience for viewers using ad blockers

Wikia is not accessible if you've made further modifications. Remove the custom ad blocker rule(s) and the page will load as expected.