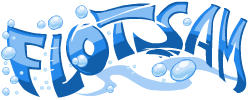 The Flotsam ("flot-sam") is an aquatic, dolphin-like Neopet. Although they prefer to stay in the water, Flotsams can move on land equally well.
Flotsam are 21cm (0.69ft) on average, making them the smallest Neopet species.[1]
On 3 March, 2001 Flotsam was made Limited edition due to the amount of them being eaten by Jetsam. Once they were made Limited edition, there was no longer enough to sustain the Jetsam population and on 17 May, 2001 Flotsam was taken off the Limited edition list and replaced with Jetsam. They are not currently Limited edition, meaning you can create one whenever you like.
Site description: "Flotsams love to swim through the vast oceans of Neopia. They are very quick and can sense danger by studying the temperature of the waters and the movement of the clouds."[2]
Available Colours
Below are all possible colours for Flotsams. Hit "Expand" to see every one!
Unconverted Pets
Two colours of Flotsams were exempt from auto-conversion when Neopets updated the pet art.
Previous Versions
Flotsam was released at the launch of Neopets on 15 November, 1999. It was redesigned on 22 June, 2000.
Famous Flotsams
Trivia
Links
Official Flotsam Page All Neopets species