Fashion Fever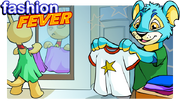 N/A
Medium

Neopia Central
External Links

N/A

N/A

Fashion Fever
is an Action game from
Neopia Central
on
Neopets
.
Site Description
" Dress up a Neopet. Select an outfit from various items like glasses, shirts, and trousers. Also, choose from different Neopet colours and backgrounds. Click on the categories to display the different types of clothing. When you find something you like, drag and drop it onto the character to change its clothes. Click on the screen behind the character to choose a different background scene. The "Randomise" button will create a character with a random outfit and background. Click "Done" when you're finished to send your score. You can even send a greeting card of your character to a friend! "
Trivia
This game has no trophies
This game has a ribbon for 200 million plays
You're given 300 NP every time you submit a score
Gallery
Videos
Ad blocker interference detected!
Wikia is a free-to-use site that makes money from advertising. We have a modified experience for viewers using ad blockers

Wikia is not accessible if you've made further modifications. Remove the custom ad blocker rule(s) and the page will load as expected.