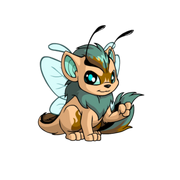 Stats: Retired
Can still be used? Yes
The Faerie Paint Brush turns your pet into a Faerie. Common traits of Faerie Pets are delicate wings, unique patterns and soft colours.
To use the paint brush, you must take your pet and the item to the Rainbow Pool.
Do not confuse it with the Faerie Brush Plushie. Some tricky users might try to fool you into buying the plushie rather than the real thing, or you may simply buy the plushie by accident.
Petpets can also be painted in the Faerie style, however this requires a Faerie Petpet Paint Brush instead.
Faerie Pets
For a list of all Faerie neopets, go to Faerie (style).
External Links
Ad blocker interference detected!
Wikia is a free-to-use site that makes money from advertising. We have a modified experience for viewers using ad blockers

Wikia is not accessible if you've made further modifications. Remove the custom ad blocker rule(s) and the page will load as expected.