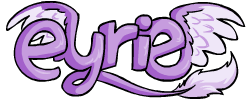 The Eyrie ("ear-ree") is a playful griffin that enjoys battling. While it is not officially native to Mystery Island, it has been said that Eyrie are native to "the tropical climates of Neopia" hinting that it is indeed native there. They enjoy adventure and love to seek out knowledge.
Eyrie are 160cm (5.25ft) on average, making them the largest Neopet.[1]
It is not limited edition, meaning you can create one whenever you'd like.
Site description: "Eyries inhabit the tropical climates of Neopia. They are very playful but can also be ferocious at times."[2]
Available Colours
Below are all possible colours for Eyries. Hit "Expand" to see every one!
Unconverted Pets
Some colours of Eyries were exempt from auto-conversion when Neopets updated the pet art. Click "Expand" to see all possible unconverted Eyries.
Previous Versions
Eyries were originally released at the launch of Neopets, 15 November, 1999, as Cerpull. On 13 July, 2000 it was renamed to Tatsu, and on 26 January, 2001 it was finally renamed again to Eyrie.
Famous Eyries
Trivia
Its modern name is derived from an English word meaning "high mountain perch."[3]
Links
↑ Pet description http://www.neopets.com/petinfo.phtml?type=Eyrie&r=427