Correct Pronounciation:
ee-soff-a-gore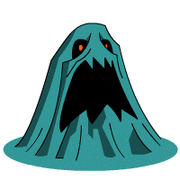 It is unknown exactly what the Esophagor is, but it is known how hungry he is.
History
Oddly, whenever The Brain Tree wants to know when someone died, the Esophagor happens to know exactly when it happened. As a result, he is believed to be behind the dissapearances of many Neopians...by eating them.
Games
Esophagors Quest
The Esophagor is always hungry, and its up to you to find the food he wants. He will only ask for Spooky Foods available here, but can sometimes get greedy with what he asks for. The Esophagor often asks for unbuyables (items over 99,999NP), if he does this let the time run out and try again later. He will reward you with a small amount of Neopoints, and an item if you get the items back to him within the time limit. It is rarely worth spending more than 1,000NP on his quests. You can attempt timed quests up to 10 times a day. For example you can do 3 Brain Tree Quests, 4 Snow Faerie Quests, and 3 Kitchen Quests. You can attempt the Esophagors Quests here.
The Brain Tree will ask about when and where a certain person died. To answer, do 2 Esophagor quests, it's the ONLY way, as ONLY the Esophagor has the correct random answer, you have to feed him once for the "when" and once for the "where". Even if you guess correctly, you won't get anywhere: Neopets has "rigged" it so that unless you do two Esophagor quests, the Brain Tree won't accept your answer. You can try the Brain Tree's quests here.
The Esophagor refused to let Rohane and his friendspass through to Edna's Tower in NeoQuest II. He is also the final boss of the 4th chapter.
Battledome
Once you have completed an Esophagors quest you will receive him as a Battledome opponent. His difficulty is 49. He has very poor defense despite the fact he has good weapons. As far as your abilities go, I would suggest burrow and sink, along with freezing items. Keep attacking and you'll succeed.
Items
Eau de Esophagor
Esophagor Bath Tub
Esophagor Bean Bag
Esophagor Bed
Esophagor Chair
Esophagor Drawer
Esophagor Lamp
Esophagor Mask
Esophagor Plushie
Esophagor Pop-Up Book
Esophagor Shelf Unit
Esophagor Shield
Esophagor Stamp
Esophagor T-Shirt
Esophagor Table
Esophagor Essence of Esophagor
Moonlit Esophagor Stamp
NeoQuest II Esophagor Stamp
Tales of the Esophagor
The Esophagor

Note This item is no longer available from the Mall.
External Links
Ad blocker interference detected!
Wikia is a free-to-use site that makes money from advertising. We have a modified experience for viewers using ad blockers

Wikia is not accessible if you've made further modifications. Remove the custom ad blocker rule(s) and the page will load as expected.