Escape to Kreludor
is a Puzzle game from
Kreludor
on
Neopets
.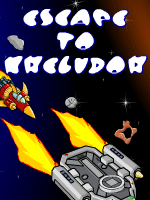 Site Description
"Gorix and Cylara have just jettisoned out the side of the Virtupets Space Station in an attempt to flee the evil Dr. Sloth. Unfortunately he has noticed their escape and sent his Virtupets Fighters to stop them! You must help our heroes defeat the fighters and escape... to Kreludor!"
Trivia
This game has an NP ratio of 0.90
This game has an average difficulty of 5.7
This game has a medal for 10 million plays
Cheats
empulse - Type during gameplay to have an empulse effect. Once per game.
Gallery