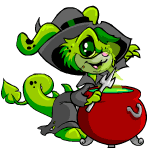 Ednas Tower, or the Witch's Tower can be found
here
. It is where
Edna
gives out her quests. She tends to ask for Toys or Grooming items, and will reward you normally spooky food and NP's.
If you accept a quest and the items are fairly cheap the quest may be worth completing. Most quest helpers suggest not spending more than 1000NP in total on her quests.
Avatar
There is an avatar available from completing a quest from Edna, however the exact specifications are unknown, apart from the fact that you can only get the avatar with 3 item quests. This is the Edna - Cackle! avatar.
Ad blocker interference detected!
Wikia is a free-to-use site that makes money from advertising. We have a modified experience for viewers using ad blockers

Wikia is not accessible if you've made further modifications. Remove the custom ad blocker rule(s) and the page will load as expected.