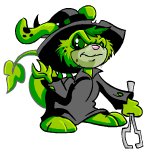 Edna the Witch is a Zafara who is constantly trying to learn new spells. You can often find her in Edna's Tower here mixing the ingredients you find for her. You can read more about her here
History
Before te world of Neopia was adjusted so that there were no humans, Edna was a human witch. Her change into a neopet was explained in-universe as a result of a spell gone wrong.
Avatar
There is an avatar available from completing a quest from Edna, however the exact specifications are unknown, apart from  the fact that you can only get the avatar with 3 item quests. This is the Edna - Cackle! avatar.
Related Games
Edna's Shadow
In this game you must help Edna and her shadow gather the ingredients needed to make her potion. Play this game here
Items
Edna
Edna Costume Hat
Edna PLushie
Edna the Witch
Edna the Zafara Stamp
Ednas Cookie
Ednas Potion
Ednas Shadow Background
Cackling Edna Head (no longer available)
When you have completed a quest for Edna you will be able to play against her in the Battledome. She starts with 60HP, and you will gain 5 HP per win.
Ad blocker interference detected!
Wikia is a free-to-use site that makes money from advertising. We have a modified experience for viewers using ad blockers

Wikia is not accessible if you've made further modifications. Remove the custom ad blocker rule(s) and the page will load as expected.