Destruct-O-Match II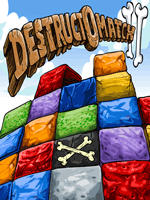 Unknown

Unknown

Tyrannia
External Links

High Score Page (defunct)
N/A

Destruct-O-Match II
is a retired game from
Tyrannia
on
Neopets
. It is categorized as a
puzzle
game and rated as
easy
.
Double click on any set of blocks of the same color to "destroy" them. Clear out more blocks, win more np. I suggest starting at the top and going down. This game has since been sent to the Game Graveyard due to Destruct-O-Match III being released.
Destruct-O-Match II occupies game IDs 453 and 759, the latter being an updated version of the game which replaced the former.
Hint
Type destroyboulders to clear one colour.
External link