Destruct-O-Match II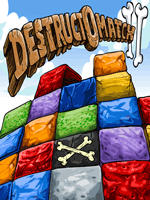 Unknown

Unknown

Tyrannia
External Links

High Score Page (defunct)
N/A

Destruct-O-Match II
is a retired game from
Tyrannia
on
Neopets
. It is categorized as a
puzzle
game and rated as
easy
.
Double click on any set of blocks of the same color to "destroy" them. Clear out more blocks, win more np. I suggest starting at the top and going down. This game has since been sent to the Game Graveyard due to Destruct-O-Match III being released.
Destruct-O-Match II occupies game IDs 453 and 759, the latter being an updated version of the game which replaced the former.
Hint
Type destroyboulders to clear one colour.
External link
Ad blocker interference detected!
Wikia is a free-to-use site that makes money from advertising. We have a modified experience for viewers using ad blockers

Wikia is not accessible if you've made further modifications. Remove the custom ad blocker rule(s) and the page will load as expected.