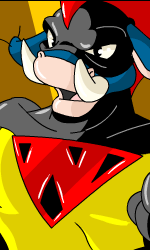 Fight specific bad guys in the Battledome to progress through Defenders of Neopia and gain trophies. In order to win, grab some weapons and increase your pet's stats (level, strength, defence, and HP) to higher than the opponent's before you fight them. To increase your pet's stats, go to the Swashbuckling Academy on Krawk Island or the Training School on Mystery Island. Blessing your pet with Faerie Abilities (Lens Flare being the most useful) will also help you out during the battles.
There are two series, and each contains comics about the villains you will fight.
DoN is currently unavailable due to the Battledome upgrade.
Related
Links
Ad blocker interference detected!
Wikia is a free-to-use site that makes money from advertising. We have a modified experience for viewers using ad blockers

Wikia is not accessible if you've made further modifications. Remove the custom ad blocker rule(s) and the page will load as expected.