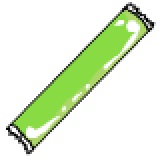 Chia Pops are like magical plushies in some respects, because they will change your Chia's appearance when eaten into the flavour of that Chia Pop.
Note: It must be a Magical Chia Pop. Regulars won't work; most of them are called "Non-Magical Chia Pops." Real Magical Chia Pops are unbuyable and can fetch very high prices on the Trading Post, a way of exchanging items. Most Chia Pops will only work on Chias and will not transform another species into a Chia. Also, only food-flavored Chia Pops will work on transforming Chias. Rainbow pops will not make them rainbow! For that, you need a Rainbow Paint Brush.
There is no Magical Chocolate Chia Pop, so if you want a chocolate Chia, you must turn it chocolate the same way that you turn any other neopet chocolate. The same goes for the custard color.
Gallery/List of flavors
Ad blocker interference detected!
Wikia is a free-to-use site that makes money from advertising. We have a modified experience for viewers using ad blockers

Wikia is not accessible if you've made further modifications. Remove the custom ad blocker rule(s) and the page will load as expected.