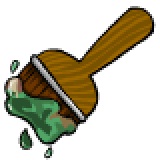 The
Camouflage Paint Brush
will give your neopet a camouflage pattern. The color of the camo pattern varies among neopets, however, and some of the neopets have a very unusual camo pattern.
Camo colors
Blue: Blumaroo, Bruce, Draik, Flotsam, Lupe, Nimmo, Tuskaninny, Yurble
Brown: Elephante, Hissi, Kau, Krawk, Kyrii, Meerca, Mynci, Ruki, Usul
Gray: Jetsam
Green: Acara, Chia, Eyrie, Gelert, Techo, Wocky
Orange: Kougra, Peophin, Zafara
Pink: Uni
Purple: Koi, Poogle, Quiggle, Shoyru
Red: Grarrl, Grundo, Ixi, Scorchio
Yellow: Aisha, Xweetok
Unusually patterned camo neopets
Pets that can be painted Camouflage
Acara, Aisha, Blumaroo, Bruce, Chia, Cybunny, Draik, Elephante, Eyrie, Flotsam, Gelert, Grarrl, Grundo, Hissi, Ixi, Jetsam, Kau, Koi, Kougra, Krawk, Kyrii, Lupe, Meerca, Mynci, Nimmo, Peophin, Poogle, Quiggle, Ruki, Scorchio, Shoyru, Techo, Tuskaninny, Uni, Usul, Wocky, Xweetok, Yurble, Zafara.
Ad blocker interference detected!
Wikia is a free-to-use site that makes money from advertising. We have a modified experience for viewers using ad blockers

Wikia is not accessible if you've made further modifications. Remove the custom ad blocker rule(s) and the page will load as expected.