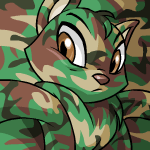 Camouflage is a colour pets can be painted.
Camouflage pets are usually a mixture of 3 colours in a military camouflage pattern. Some camouflaged pets are based on the patternation of real animals.
How to Obtain

To get a Camouflage neopet, you will need access to the Secret Lab Ray, a Morphing Potion, a Camouflage Paint Brush, or a Fountain Faerie Quest. You may also be able to Adopt or trade one.
All Camouflage Neopets
Hit "Expand" to view more
External Links