Brightvale
is a location in
Neopia
on
Neopets
.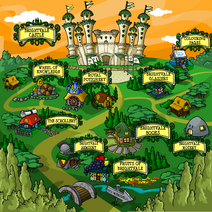 Site Description
" Fifty miles west of Meridell there stands another castle, in a kingdom ruled by King Hagan the Wise (better known as the older brother of that scruffy oaf Skarl). The kingdom is known as Brightvale, a bastion of peace, knowledge and really lovely ornate windows. "
Sub Locations
The Scrollery
Royal Potionery
Brightvale Fruits
Brightvale Books
Brightvale Motery
Brightvale Armoury
Brightvale Glaziers
Games
Other
Gallery
Ad blocker interference detected!
Wikia is a free-to-use site that makes money from advertising. We have a modified experience for viewers using ad blockers

Wikia is not accessible if you've made further modifications. Remove the custom ad blocker rule(s) and the page will load as expected.