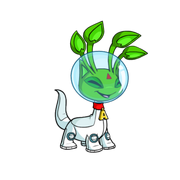 Alien is a color style on Neopets. So far, the only Neopet that is able to be painted alien is the Aisha. You can get your Aisha to be this color by going to the Lab ray, or through a Fountain Faerie Quest. You might also get the pwned by the lab ray Avatar. You could also get it in the Your Neopet's Dream Colour sweepstakes, though the sweepstakes are now retired.
Ad blocker interference detected!
Wikia is a free-to-use site that makes money from advertising. We have a modified experience for viewers using ad blockers

Wikia is not accessible if you've made further modifications. Remove the custom ad blocker rule(s) and the page will load as expected.