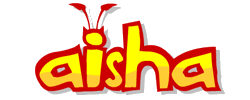 The Aisha (eye-shah) is a multi-eared creatures that are, in general, very intelligent and skilled in magic. There are also six-eared alien aishas that own a vending machine in Neopia central that dispenses weird food and Neopoints.
Site description: "Aishas are strange creatures with special abilities. They have acute hearing and a penchant for magic."[1]
Available Colours
Below are all possible colours for Aishas. Hit "Expand" to see every one!
Unconverted Pets
Some colours of Aishas were exempt from auto-conversion when Neopets updated the pet art. Click "Expand" to see all possible unconverted Aishas.
Famous Aishas
Links
↑ Pet description http://www.neopets.com/petinfo.phtml?type=Aisha&r=1
Ad blocker interference detected!
Wikia is a free-to-use site that makes money from advertising. We have a modified experience for viewers using ad blockers

Wikia is not accessible if you've made further modifications. Remove the custom ad blocker rule(s) and the page will load as expected.