The Air Faerie is an uber Faerie who can give out random quests. She looks like
this
and will ask for Beauty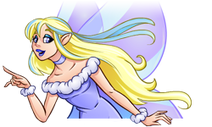 Products. In return she will increase your agility stat. This is generally considered useless, as this has no effect in the Battledome.
You can learn how to draw an Air Faerie here
Avatars
The Air Faerie has one default avatar shown here.
Game

You can pick the Air Faerie to race in Faerie Cloud Racers.
Gallery
Famous Air Faeries
Psellia
Mira the space faerie
Fyora the faerie queen