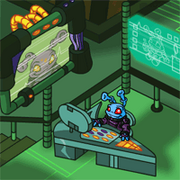 Located on the supply deck of the Virtupets Space Station the Adopt a Grundo desk allows neopians the opportunity to own their very own Grundo.
While there is very little on the adopt a Grundo page, it does caution that Grundos slobber a lot and cry at night. Still, they do look cute...don't they?
External Links
Ad blocker interference detected!
Wikia is a free-to-use site that makes money from advertising. We have a modified experience for viewers using ad blockers

Wikia is not accessible if you've made further modifications. Remove the custom ad blocker rule(s) and the page will load as expected.